Do you fancy the savoury Moroccan cuisine? Enjoy a delicious Tajine in our restaurant
The excellent chefs of our riad contribute to your well-being with a large variety of traditional Moroccan and international dishes.
Enjoy, you are most welcome to have a seat in our restaurant:
From spring to autumn our restaurant tables are being set outside in the main patio of our riad. We serve steaming tajines, exotic salads – the most delicious examples of Moroccan cuisine – underneath citrus trees heavy with fruits or in full bloom.
During colder periods in Marrakech, we invite you to have a seat in our indoor restaurant next to a crackling and warming fire. Under the high ceiling of the former kitchen with a glass pyramid opening to the sky, our restaurant team is happy to be at your service.
The Moroccan cuisine is time consuming:
All different kinds of vegetables will have to be chopped for a great choice of salads, the couscous needs a thorough kneading, the tajine simmers in the kitchen for hours over low heat. As the chefs prepare their dishes only with fresh ingredients, we kindly ask you to book our restaurant in advance so that they may adjust their daily shopping on the local markets in Marrakech.
Our menu usually consists of:
Dinner: 4 courses, 400 DH (approx. 37 EUR):
soup
a choice of Moroccan salads or Briouattes
Tajine of chicken, beef or lamb with vegetables of the season
dessert
Lunch: 2 courses, 200 DH (approx. 18 EUR)
Menu for your inspiration: restaurant menu
We are happy to answer to your dietary requests (
vegetarian meals
, special allergies, children's food). If you choose to have a change from the
Moroccan cuisine
, our chefs are happy to prepare you delightful International dishes. The Moroccan cuisine suits especially well the requirements of a
gluten free diet
and a diet necessary for
lactose intolerances
. Please be so kind to inform our restaurant team if you should wish any special requirements: 
Reservation
.
On request, we open our restaurant for guests not resident in our riad. Please contact the restaurant for reservations: restaurant@riyadelcadi.com
Dinner or Lunch
You are most welcome to enjoy a delicious meal at Riyad El Cadi even if you do not stay with us. We kindly ask you to let us know a day in advance of your wishes so that we may be well prepared.
---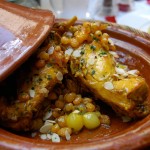 Cooking Class
Do you like to do it on your own? Cook a tasty Tajine? Like to know where the locals in Marrakech shop? We show you all in our cooking classes. 50 EUR per person including course, lunch, tea and half a bottle of wine. Read more